When we offer you cash for gold you need to consider the following:
You will have to find a dealer who is keen to purchase pre-owned jewellery

The dealer must have integrity and skill to enable him to give you the appropriate price in the secondary market


Remember that when you are disposing of pre-owned jewellery, you may not rely on the certificate issued to you by a retail shop for insurance purposes. The valuation certificate only indicates to you the price that you would pay should you wish to replace the item of jewellery in question. This is a crucial point of confusion in the mind of the general public and not enough has been done by the jewellery industry to clarify the perception that the general public has of their valuation certificates.
At POT OF GOLD we proud ourselves of the large number of people that sell to us their valuables simply out of word of mouth or recommendation from various quarters of the jewellery industry.
So if you have an antique pocket watch, wrist watch, old gold jewellery, rings, antique or modern jewellery, do not hesitate to contact us for an appointment. Without any obligation whatsoever to you, we will be privileged to assess the value of your valuables in the secondary market and make a cash offer to you in a friendly atmosphere of style, discretion, elegance and professionalism.
Should you require more information in terms of selling jewellery please do not hesitate to contact us and we will gladly be of assistance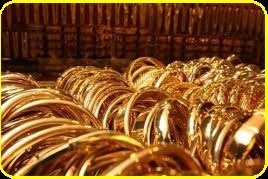 Q: How is payment of my items determined buy gold buyers?
A: Payment is based on gold content (karat), thus it would work on the weight of the gold and the karat.
Q: I paid R12 000 for my ring. I should expect to get R12 000 , right?
A: Retail stores mark up jewelry 5, 10 and even 20 times or more. Pot of Gold pays for the melt value of your jewelry, the value of the gold itself once it has been melted down and sent to the refinery.

Q: There is a stamp on my ring indicating 18K. Is this reliable?
A: No unfortunately not always. Although most countries require manufacturers to stamp the gold content of their jewelry, very few countries enforce these laws or require an independent third party to evaluate the item. The stamp on your jewelry may be correct, but it is quite common to receive jewelry that is fraudulently stamped. Our trained professionals will test each piece before the deal is concluded.

Q: What testing methods are used to determine purity?
A: Upon receiving your gold, POT OF GOLD testers will first look for a stamp on the jewelry made by the manufacturer indicating the karat. Testers then have three testing methods (acid/scratch test, electronic tester and or X-ray fluorescence scan) to verify the gold purity of your items.

Q: What if My Old Jewellery is Broken?
A: We will buy gold jewellery in any condition.